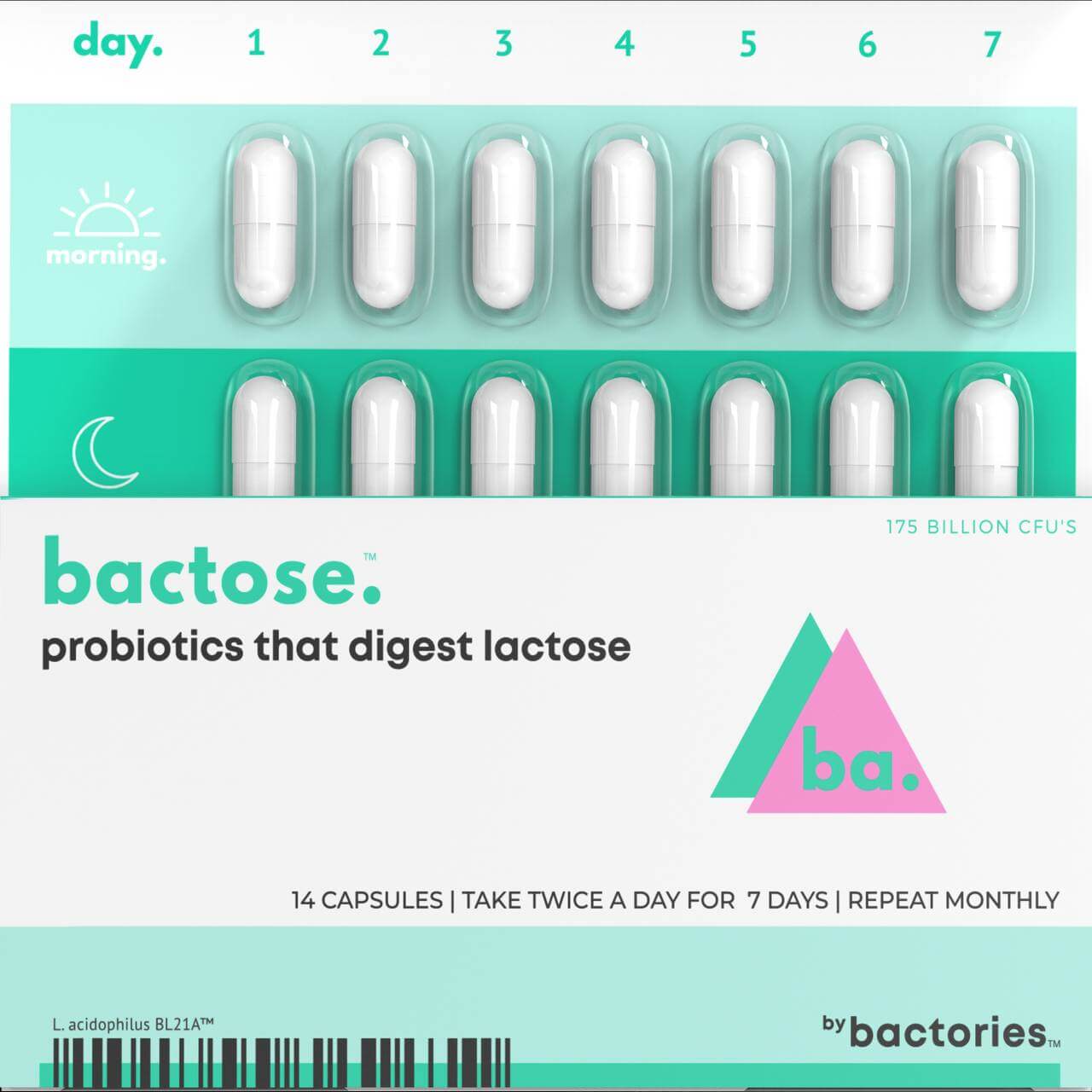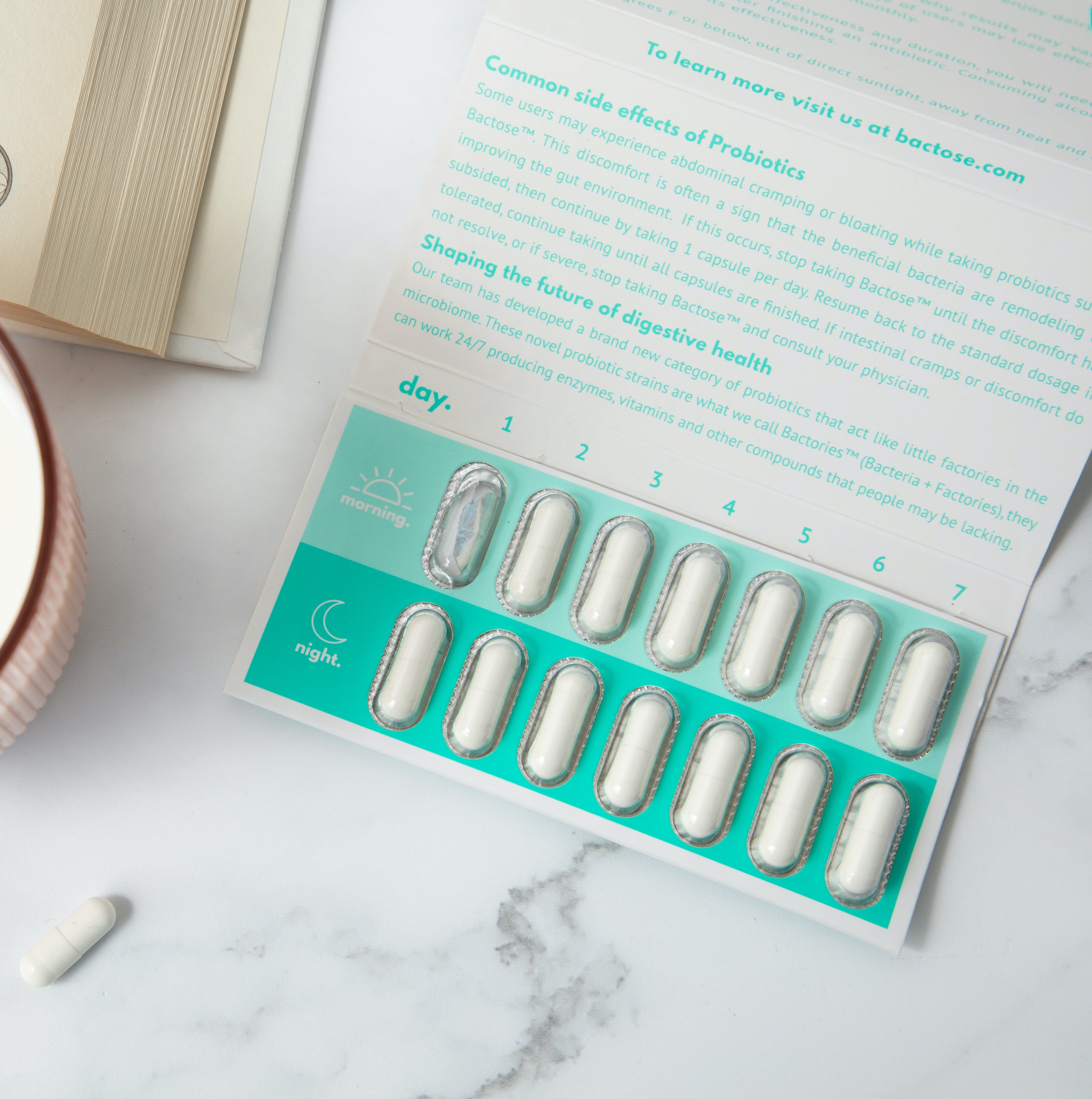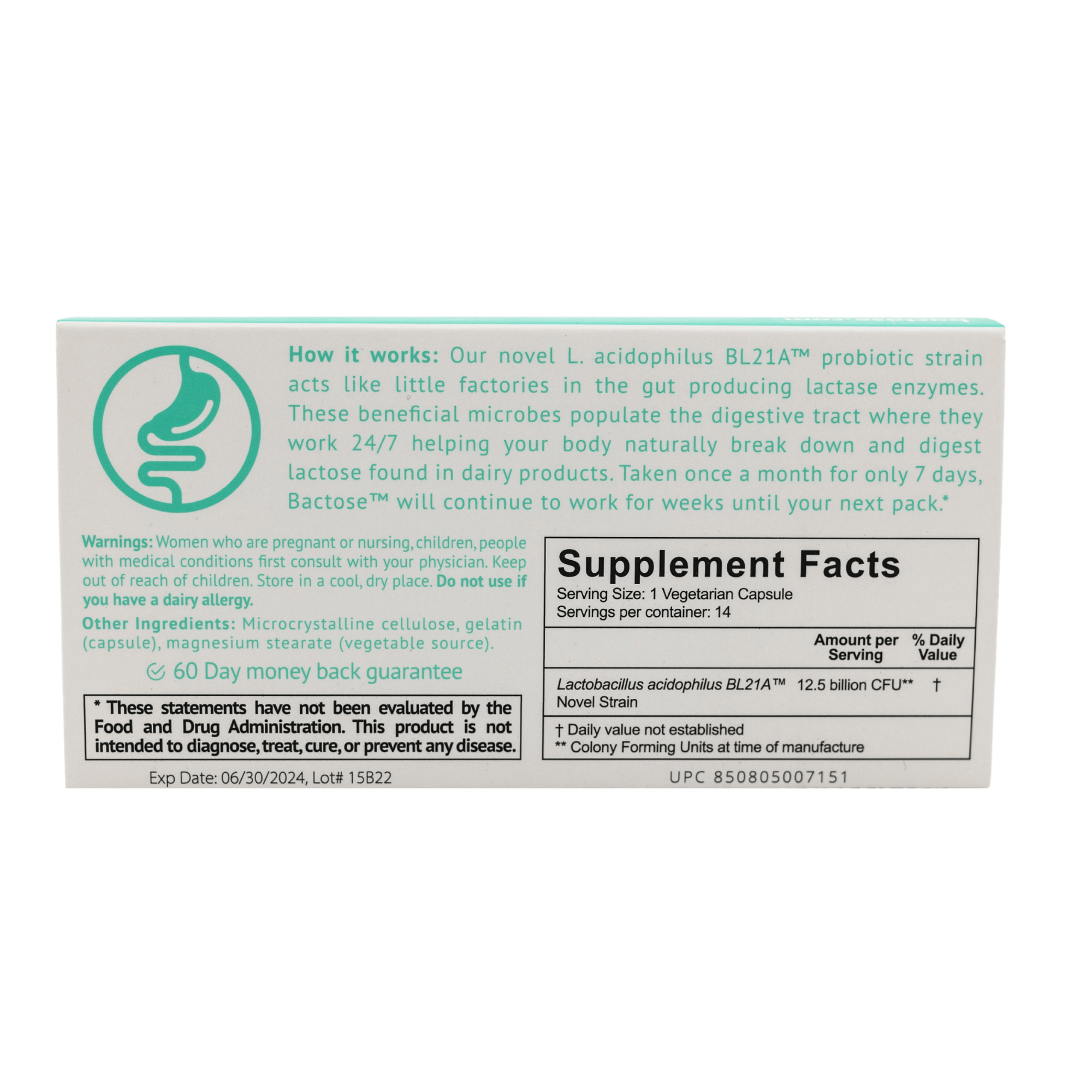 Bactose - Probiotics that digest lactose
Now Back in Stock!
Subscribe and save 25%
Bactose™ is a revolutionary probiotic that digests lactose
.  Take for just 7 days and get an entire month of relief from eating
dairy.
Say no to

 

bloating,

 

gas,

 

and

 

diarrhea. Indulge in all the cheese, ice cream, and other delicious, nutritious

 

dairy products

 

you want.

Get 24/7 protection 365 days a year with a Bactose subscription.

68% of the global population suffers from lactose intolerance.
Forget the multiple lactase pills every time you eat.
14 Capsules | Take twice a day for 7 days | Repeat monthly
Free Shipping • Skip or Cancel Anytime
"Just try it" 60 day money back guarantee!
Ingredients: Patented Proprietary L. acidophilus BL21A, Microcrystalline cellulose, Vegetable Cellulose (Capsule), Magnesium Stearate (Vegetable Source)
Let customers speak for us
I ate pizza!
My lactose intolerance has become extreme, and lactaid doesn't make a difference for me. I tried bactose, and ate a piece of pizza with ZERO CONSEQUENCES following my first pack! A few days later I ate some cheese, and did have some "dairy farts" soon after. Jury is out on whether this will really let me eat anything, but I'm going to to try a second and perhaps third month before I decide.
Didn't work
I was hopeful but it didn't work. Still have to take lactaid.
Amazing! It works!!
Over the past four years, I have become more intolerant of dairy. I skeptically tried Bactose four months ago. To date, ii am doing great! Admittedly, I have not tried large amounts of dairy, but I have consumed ice cream, mac & cheese, and other dairy products with little to no adverse effects. It may not work for everybody but it's working for me.
Great stuff
After using this for two months it has really helped. I also started my 9 year old daughter on it and it has completely helped her.
Love it
Been eating everything dairy again without the excruciating stomach ache. It's awesome.
Frequently Asked Questions
How does Bactose™ work?
Our novel L. acidophilus BL21ATM probiotic strain acts like little factories in the gut producing lactase enzymes, supplementing what the body lacks. These beneficial microbes populate the digestive tract where they work 24/7 helping your body naturally break down and digest lactose found in dairy products.
How long does Bactose™ last?
Bactose™ will continue to work for the entire month after the first 7 day pack. Bactose™ has unique properties that allow it to adhere better to the intestinal lining when compared to other probiotic strains, allowing it to thrive for many weeks after just 7 days of use. Repeat monthly.
How long does it take for Bactose™ to work?
After taking Bactose™ for just 7 days, you can enjoy dairy again on day 8. As long as one takes Bactose™ monthly, there is no need to abstain from dairy during each subsequent 7 day recharge.
Is there a money-back guarantee?
Absolutely, we have our "just try it" 60 day money back guarantee! We're on a mission to improve your dairy life and ensure complete satisfaction. If Bactose™ didn't work for you, email us about your experience and we'll make it right.
No obligation, easy to skip or cancel subscriptions?
We use one of the most popular subscription services, Recharge, to manage all our subscription orders. Recharge makes it easy to manage, skip or cancel your subscriptions anytime with no obligation.
Storage conditions?
At 75 Degrees F or below, out of direct sunlight, away from heat and moisture.
When is the best time to take bactose?
Bactose™ is best taken on an empty stomach. Reason is taking bactose with food or too close to a meal will prevent it from properly populating in your gut greatly shortening the length of its effectiveness.
Effects of antibiotics?
Antibiotics are meant to kill bacteria, that includes probiotics and your natural microbiome. Taking antibiotics while on Bactose™ will decrease the effectiveness and duration of Bactose™. You may need to take a new course of bactose 7 days after the antibiotic course is finished. However taking Bactose™ after finishing an antibiotics course will actually help the effect and duration of the effect of Bactose™, this is because it is given the ability to outcompete other probiotics in your intestines.
Effects of alcohol?
Consuming alcohol while taking Bactose™ for the first 7 days may decrease its effectiveness.
Common side effects of probiotics?
Some users may experience abdominal cramping or bloating while taking probiotics such as Bactose™. This discomfort is often a sign that the beneficial bacteria are remodeling, detoxifying and improving the gut environment. If this occurs, stop taking Bactose™ until the discomfort has subsided, then continue by taking 1 capsule per day. Resume back to the standard dosage if tolerated, continue taking until all capsules are finished. If intestinal cramps or discomfort do not resolve, or if severe, stop taking Bactose™ and consult your physician. For more information visit: http://www.probioticscenter.org/bloating-and-probiotics